District Office Welcome to Paola USD 368. The district is an integral part of a progressive community located in Miami County and twenty minutes south of the Kansas City suburban area. The city of Paola has a population of over 5000 and the district is home to approximately 2000 students housed within two elementary schools, a middle school, and a high school. Paola is a great place to live, . . . read more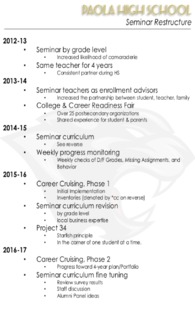 Over the past five school years, PHS has focused on developing the seminar period from an unstructured period in an otherwise structured day into a meaningful time for students to accomplish academic goals, while providing opportunities to gain technical and soft skills necessary for success in life during and after high school. The images . . . read more
New School Year, New Sights
The usual excitement of starting a new school year has increased especially with the "flurry" of building projects and improvements that are taking place around the 368 district campus.
While students and most staff were out of school for summer vacation, the construction work was proceeding at full-tilt so that Phase II project goals could be reached on schedule.
Noteworthy upgrades include a newly surfaced track and artificial turf football field; the impressively remodeled Paola Middle School auditorium and commons area restrooms; and the secured entries at each of the four campus buildings.
The tornado shelters are scheduled to be completed mid-winter, thus they will be ready for the Spring tornado season. Progress continues on the baseball and softball fields.