6th Grade Transition
Moving from 5th grade into the middle school is a big experience in the lives of USD 368 students. This page is designed to accompany the 6th Grade Handbook and to allow 5th grade parents and students some "Sneak Peeks" into Life at the Middle School.
Please browse the FAQ by clicking on the ones that interest you!
Frequently Asked Questions (FAQ):
How many teachers will I have?

What is the daily schedule like?

Can I pay lunches and fees online?

Who can be in Band?
The staff and faculty of Paola Middle School are all here to help your child make a smooth transition to middle school. Please feel free to call us at 913-294-8030 anytime with your questions and concerns.
WELCOME TO PAOLA MIDDLE SCHOOL!
Frequently Asked Questions Answered...
Each sixth grade student will be assigned to a teacher team for their core academic classes which are: Communications, Math, Social Studies and Science.
c = communications; m = math; ss = social studies; sci = science
You can click on a teacher's name to reach that faculty member by district email.
OTHER TEACHERS
Mr. Cash - Our 6th Grade Counselor is here for parents as well as students. Please call if you have a concern. Also, let him know if any major events at home occur such as a death in the family, death of a pet, divorce, etc. If we are aware of changes at home, we can understand students' behavior.
Mrs. Yerkes - Library / Media Specialist
Mrs. Ingle - Resource Teacher
Mrs. Schmidt - Gifted Education Teacher
Ms. Broadrick - Related Arts - Computer Applications
Mr. Hull, Mr. Troast, Mrs. Walters - Related Arts - Physical Education
Ms. Hickey - Related Arts -Technology Lab
Mrs. Argeropoulos - Related Arts - General Music
Mr. Proctor - Band
Will I have a locker?
A little space of your own . . .
At Paola Middle School you begin the day in an academic class with a "homeroom" team teacher, and students have a little space of their own . . . CUBBIES!
Gym teachers will advise students on locker combinations and lock use at the beginning of the year.
---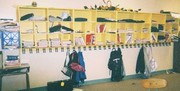 6th grade Cubbies
---
What is the daily schedule like?
In sixth grade, your child will have a team of two teachers for his/her academic classes instead of just one. The four academic classes consist of: Communications (English/grammar/spelling/reading), Math, Social Studies, and Science. In addition, your child will also have a P.E. teacher and will have the opportunity to have classes with each of the related arts teachers throughout the year. There is one related arts class per nine-weeks (quarter). Your child will find that the busier schedule of a middle school student will make his/her time at school fly by!
Getting organized is the key to success. Your child will receive an AGENDA at the beginning of school. The policies and rules of Paola Middle School are printed in the front. Make sure to familiarize yourself with these. Your child will use the agenda to keep track of lessons and assignments. The agenda is a great tool to help you to build team communication with your child's teachers. It also allows parents to monitor assignments and due dates.
6th Grade Sample Daily Schedule
1st Hour

8:00 - 8:50

Academic Class

2nd Hour

8:54 - 9:44

Academic Class

3rd Hour

9:48 - 10:38

Related Arts (9-weeks class); and/or Math Lab; or P.E. (all year)

P.E. ~ Computer Applications ~ Art ~ Tech Lab ~ General Music

4th Hour

10:42 - 11:32

Academic Class

5th Hour

11:36 - 12:01

12:01 - 12:51

12:51 - 1:12

Lunch

Academic Class

SSR (Sustained Silent Reading)

6th Hour

1:16 - 2:06

Band / Seminar (Seminar for those not in band) / Gifted

7th Hour

2:10 - 3:00

Related Arts (9-weeks class) or P.E. (all year)

P.E. ~ Computer Applications ~ Art ~ Tech Lab ~ General Music
How does Lunch work?
Students may bring lunch money to the Commons Area in the morning before the first bell to be added to their account. Breakfast at the middle school is $1.80 each and lunch is $2.45 each. Students may now enjoy a choice of a main entrée, OR they can sign up to eat from the salad bar instead. The USD 368 has online payments for food service available now.  Students are verbally reminded when their account balance is low, rather than being given a paper reminder. Only 2 meal 'charges' are allowed on their account. No change can be provided, exact bills or checks will be credited to the student's meal account.
Students may also choose ala carte items at an additional charge. If a student owes money on his/her account, they will not be allowed to purchase the ala carte items. The ala carte items are not allowed to be charged. The following items are on the ala carte menu: flavored bottled milk ($1.00), bottled water ($.50), Landshire ham and cheese & turkey and cheese sandwiches ($2.50), string cheese ($.30), yogurt ($.75), granola and cereal bars ($.65), 100 calorie snack packs ($.50), snack crackers ($.30), banana or pumpkin bread ($.65), and Otis Spunkmeyer muffins ($.95). (Prices are subject to change without notice.)
Can I pay lunches and fees online?
You may log into our RevTrak Online payments program to pay for school fees, purchase a yearbook, and add money to your child's breakfast/lunch account with a credit card.  You will need to have Infinite Campus login to get started.  If you do not have this login, please contact Sue Silver, sue_silver@usd368.org, or call the middle school office, 294-8030.   Click on the following link for help instructions, Web Store Payment Instructions.
Back to Top
SIXTH GRADE SUPPLIES
(Please put child's name on all supplies with permanent marker.)
Ruler (Metric and English)
Colored Pencils
Scissors
#2 Pencils (for all classes)
2 twin pocket Poly-Folders (w/fasteners)
2 pocket folders w/ 3 hole punch (no fasteners)
Elmer's Glue
Notebook paper
Highlighter
1 twin Black Sharpie (double-tipped)
1  '4-pack' Dry Erase Markers
Supply pouch for notebook
3 large boxes of Tissues
1 Scientific Calculator (TI-30X or comparable)
Zippered 'Trapper-type' Notebook
1 Protractor
3 Spiral Notebooks
1 Ream White Copy Paper
Large Eraser
1 pair work/garden gloves
P.E. CLASS SUPPLIES
Black gym shorts (1 or 2 pairs)
White t-shirt (1 or 2)
Gym shoes (bottoms in good condition)
White socks
Deodorant
Spiral notebook
#2 pencils (2 or more)
Eraser (large pink eraser or pencil tops)
1 box Tissues (for Related Arts classes)
 
Who can be in band?
Band meets during the seminar period.  Students interested in joining the Paola Band Program must be highly motivated and portray a good work ethic.  Band meets on a rotational basis.  Tuesday and Thursday are full band days.  We rotate between Brass and Woodwinds instruments on Mondays, Wednesdays, and Fridays.  Band is an academic class.  Students will be expected to be in class on their assigned days.  The only time a band student may miss class is for a school activity (ex:  KAY's, Map Testing, etc.)  Due to our rotation, students have  1-2 days each week to get help or make up missing work.  Students may not skip Band to make up missed classwork, homework, etc.  If you do not think you can afford to participate in band, see the band instructor and something will be worked out.  The main requirement to be successful in band is the will to succeed!
PMS BAND REQUIREMENTS
Bring instrument, pencil, music, and any instrument supplies (reeds, valve oil, etc...) to class every day.
Practice your music.  We can accomplish more during rehearsal if everyone knows how to play their own parts.  We will be able to practice on the musicality of the music piece instead of just the notes and rhythms.
Attend all concerts.  We depend on each and every member of the band.  Missing band members at a concert can be devastating to the group.  This is where band is a lot like a sports team.  A baseball team would have a very difficult time playing the game if all their pitchers missed the game!  We need full participation at all concerts!
BAND GRADES
Students receive daily participation points each day they are in class.  These points can be lost if the student forgets his/her instrument, music, or is otherwise unprepared for class.
Students will be taking several written and playing tests each quarter.  These are necessary in order for the band instructor to evaluate progress throughout the year.
Band students will have certain "bench marks" they will need to meet each quarter.  This may be in the form of memorized scales, and etude, etc.
Students are required to attend all concerts throughout the year.  Each concert is worth 100 points.  If there is an emergency (child is sick, funeral, etc...), the student will be able to make up that letter grade by writing a report.  See the band instructor for details.
Extra credit is available throughout the year.  Students may turn in practice minutes at any time.  The band instructor will give one extra credit point to students for every 15 minutes they practice.  Parents must sign a sheet of paper stating how many minutes/hours their child practiced.    
What do I wear for P.E.?
Student Expectations
The student must be on time to class and roll each day.
The student is to be in the prescribed P.E. uniform (white t-shirt, black shorts, & athletic shoes).
There is to be no food or drinks in the locker-room or gym at any time.
Any behavior that distracts from the educational atmosphere of the class or safety will not be tolerated.
No glass containers of any kind are allowed in the locker-room.
Students are expected to treat fellow students and teachers with respect.
Students who cannot participate due to an injury may be excused from P.E. with a parent's note one day per week. More than one day must be excused by a doctor.
Normal Physical Education (P.E.) Uniform
---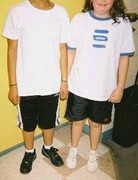 P.E. Clothes: black shorts and white shirt
---
Grading
A student can earn 10 points each day.
The daily grade is 2/3 or 67% of your whole grade.
Daily points are earned by wearing proper uniform and participation in class.
Tests, quizzes, fitness tests, and mastery tests are 1/3 or 33% of your whole grade.
Deductions
*  Subtraction of points will be at the teacher's discretion.
These points are deducted from the 10 daily points:
| | |
| --- | --- |
| -3 | Clothes may be borrowed from the teacher. Must have white t-shirt and black shorts. On the third consecutive occurrence, a call will be made home. |
| -5 | Not dressing out. On the third consecutive occurrence, a call will be made home. After the third time, all 10 points will be subtracted. |
| -3 | Improper shoes - (Must have athletic shoes; sandals, heeled shoes, flip-flops, etc. are not allowed.) |
| -5 | Participation or improper behavior. |
Will I have homework?
Attendance
The administrators, counselor, and teachers strongly support regular attendance of students. A student's grades are often a reflection of how often the student is absent. Excessive absences usually result in poorer grades. A parent or guardian should call the school when his/her child is absent. Assignments are posted on our web page, daily.  On the left side, click on Daily Assignments.  A parent may request assignments and pick them up in the office, if they do not have access to the internet. If a parent knows that a child will be absent, it is recommended that he let the teacher and the office know in advance so that assignments can be arranged.
If a student is absent, he is given the opportunity to make up any of the assignments missed while being absent. It is the responsibility of the student to ask for the work that needs to be made up. The student will have two days for every one day missed to complete the make-up work. When the student completes the work on time, he will receive the grade earned without a penalty.
At the middle school, students are routinely asked to perform extra practice on topics covered in class, or explore material to be covered the next day. If a football team didn't take time to meet and practice the skills they learned, they would have little chance of having a successful season. Students need to be in class to learn and practice what they have been taught.
Students who don't make good homework choices struggle in school. An average sixth grader can expect 30 minutes to an hour of homework each night, in varying subject areas. Teacher teams cooperate to balance homework to try to avoid overload. Each morning, the day's assignments are posted for students to copy into their agenda so students are aware of what they will need to bring home for practice.
Responsibility Reward Day/Late Work Policy
Completing work responsibly is an important life skill. Thus, the sixth grade teachers expect and encourage students to be punctual about handing in assignments when they are due. Students are challenged to earn rewards quarterly for being responsible and having no more than five (5) late papers, 7 absences, and no F's.  REWARDS are planned quarterly by the sixth grade teachers for students who qualify. Those who do not qualify have a regular school day. Parent volunteers are encouraged to participate.
The agenda is a great communication tool used by 6th grade teachers and students to record lesson topics and homework assignments. Some students still struggle with managing their time, though. Since practice does make perfect, the teachers accept homework up to 2 school days past the due date, but require a full-letter-grade penalty. If homework is not turned in after two days, the student will receive a grade of a zero for that assignment. Teachers may, in cooperation with the student and parent or counselor, extend a deadline on an assignment, given special circumstances or particular needs of a student.
Your child will receive an overall letter grade this year for each academic and related arts classes. You will not see objectives marked with checks, pluses(+), or minuses(-). Seminar class grades will be listed as Pass (P), or Fail (F).
Grading Scale
90% - 100% A (Outstanding work)

80% - 89%   B (Above average work)

70% - 79%   C (Average work)

60% - 69%   D (Below average work )

  0% - 59%   F (No credit)

 
Mid-Term Grade Reports
Progress reports are posted midway through each quarter and can be viewed on Infinite Campus. This is an excellent opportunity to see how your child is doing in each class before the end of the nine weeks. It may be necessary to talk with your child's teacher(s) if your child has received a below average grade in his/her classes. Mid-term progress reports give the student and parent the opportunity to monitor the progress shown so far. Receiving mid-term grades gives the student a chance to improve grades before the actual grade card is issued. You may access these mid-term reports online. If you do not have internet access, please contact the school office for a printed copy to be sent home with your student.
Grade Cards
Grade cards are posted at the end of each quarter and can be viewed on Infinite Campus. Grade cards will be online for parents to view at the end of each nine week period with a letter grade for Communications, Science, Math, Social Studies, P.E. and Related Arts (Computers, Tech Lab, Art, and General Music). If your child is in Band, he or she will also receive a letter grade. If you do not have access to the internet, please contact the school office for a printed copy to be sent home with your student.
Viewing Students' Grades Online
Go to www.usd368.org. The Paola USD368 web page will appear. Click on the Parent & Student tab, then click on Infinite Campus Parent to login in. Put in your login username and password provided to you by Paola Middle School. If this is the first time logging in, the program will ask you to change your password. Save your Login ID and Password so that you'll be able to view your child's grades anytime at home. If you do not have a login or if you need assistance, please contact Sue Silver at middle school (294-8030).
How many AR books can I check out?
Mrs. Yerkes, Library Media Specialist
Paola Middle School Library is open 7:45 a.m. to 3:45 p.m. Monday through Friday. Students may check out a maximum of three books at a time for a two-week period by using their library barcode that is given to them at the beginning of the year and placed inside the front page of their agenda.
Paola Middle School participates in the Accelerated Reader (A.R.) program to help increase reading comprehension. Students are allowed to check out three A.R. books, if they wish or three books by the same author. A.R. books are labeled with a special sticker on the spine of the book. The A.R. sticker has a red background with a picture of a stack of books. The A.R. book level and points are labeled inside the book near the front. If students need help finding a book, Mrs. Yerkes can help them find a good book on their reading level.
Students are also allowed to have the librarian reserve a book for them that is already checked out. If a student loses his/her agenda with the library barcode inside, the student will purchase a new library barcode in the library for $1.00. The new agenda will need to be purchased in the office for $5.00. Students who do not return books on time will be charged a five cent per day fine per book, up to a maximum fine of $1.00 per book. Students are responsible for paying for any lost books by talking to the librarian for the book's replacement cost. If a book is returned in a damaged form, students will also be responsible for replacing the book.