This Web site was designed using Web standards.
Learn more about the benefits of standardized design.
Quick Links
Main Navigation
Top Stories
District Office Welcome to Paola USD 368. The district is an integral part of a progressive community located in Miami County and twenty minutes south of the Kansas City suburban area. The city of Paola has a population of over 5000 and the district is home to approximately 2000 students housed within two elementary schools, a middle school, and a high school. Paola is a great place to live, . . .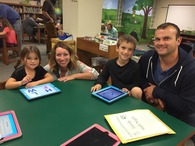 Cottonwood Elementary hosted Family Math Night on Thursday November 17th sponsored by PTO. Families in attendance participated in four math related stations. The stations included a take home game packet, building blocks, technology, and board games. Families reported that the event was engaging, and that they are looking forward to attending Family Math Night again next year!
Topics of Interest